Delphi Electronic Injector Test Kit YTD720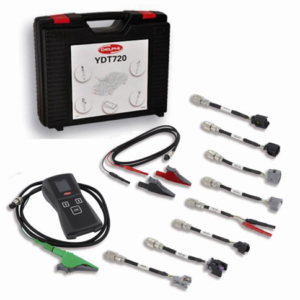 A handheld device that is quick and easy to use with fast connection to the CR injector whilst on or off the vehicle, to perform an electronic diagnosis. The Delphi "Buzz Tool" is designed to be used on or off vehicle and carries out its functionality with two simple routines, with no set up required by the user, other than selecting the appropriate connector for the injector type. The measurement cycle detects electrical failure of the injector and it also allows confirms there is no electrical failure and therefore helps diagnose faults through elimination. By using the "Buzz Tool", individual injector faults are clearly presented by warning messages.
Quick, accurate diagnosis of the electrical part of a common rail solenoid injector, on-vehicle or off-vehicle.
Measure coil resistance. Injector coils have very low resistance, not all can be measured with a standard Digital Multimeter.
Measure inductance of the coil. Measuring coil resistance alone is not enough to determine coil health. Measuring the inductance supplies additional required information, again, this cannot be done with a standard Digital Multimeter.
Delphi systems have a "buzz test" integrated in their ECU, to quickly check that the driving circuit is functional. But if the "buzz test" fails, checking that the injector is faulty can only be done by further elimination after several other tests.
Kit Contents:
Carry case and user manual
"Buzz Tool" handheld device
Croc' clip insulation lead (green)
Croc' clip supply lead (red/black)
A set of 8 injector adaptors (Delphi and All-makes)
4mm adaptor for use with Mini BOBs