Diesel Particulate Filters | Fuel Manager Pre-filter Kits | Oil & Fuel Filters
---
Diesel Particulate Filters
Direction Plus is one of New Zealand's leading brands for supplying reliable and quality, parts and accessories for diesel based passenger, 4×4, industrial power and heavy/light commercial vehicles.
What is a DPF?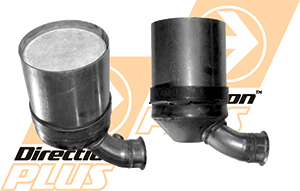 A Diesel Particulate Filter (DPF) is a device designed to remove diesel particulate matter or soot from the exhaust. Unlike a Catalytic Converter, a DPF is not a flow through device. Exhaust gases are cleaned by passing through the walls of the DPF leaving particulate matter to accumulate on the inlet face of the DPF. Once the DPF particulates reach a certain level it must be cleaned. This is achieved through filter "regeneration", where the soot particles are burnt off at high temperatures.
Regeneration Process
The DPF needs to be cleaned regularly, through a process called regeneration, either active, active with additives or passive regeneration.
Passive Regeneration
Passive regeneration generally takes place where exhaust temperatures are higher. The DPF is constantly cleaned through a catalyst process when the vehicle is driven at a certain speed or length of time.
Active Regeneration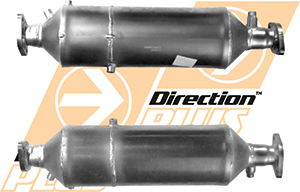 When the DPF reaches a predetermined level (usually 45% capacity), the ECU will make small adjustments to the fuel injection timing system to increase exhaust temperature to initiate the regeneration process. In order to reach this temperature the vehicle must be driven for a certain time period at a minimum speed. If frequent stop/ start driving takes place the opportunity does (Does or does not?) exist for the vehicle to regenerate the DPF. In this case a warning light will illuminate on the dash to advise that the DPF is partially full. The vehicle will need to be taken for a drive and required conditions to regenerate the DPF. If the DPF becomes too full to perform a regeneration on its own, the DPF will have to undergo a ""forced" regeneration with the use of a specialised diagnostic tool. When a DPF becomes 90% blocked, it is no longer able to be regenerated and will have to be replaced.
Active Regeneration with Additives
As per Active Regeneration but with the aid of an additive called 'EOLYS™' which is injected into the exhaust to lower the temperature required to perform the regeneration. This is most commonly found in Citroen and Peugeot vehicles.
DPF Failure Causes:
Poor engine maintenance
Malfunctioning pressure sensor / pipes
Faulty temperature sensors
Incorrect oil temperature
Faulty EGR valve
Damaged exhaust system
Corrosion / fractures
Incorrect fuel
Short runs (lack of temperature)
---
Fuel Manager Pre-filter Kits
The Direction Plus™ Diesel Pre-Filter kits are designed to be your ultimate first line of defence against water and particle contamination for a wide variety of diesel engine powered applications.
The versatility of installing a diesel fuel pre-filter kit allows the user to have the optimum fuel system filtration combined with exceptional economy.
The system is designed to match weather and fuel quality conditions of Australia & New Zealand. From the humidity of Northern Queensland to the dry cool climate of South Australia, all the way down to frosty Invercargill NZ. The diesel fuel pre-filter kit is designed to remove water and other contaminants from our Ultra Low Sulphur Diesel (ULSD) which is more susceptible to water emulsification, that is water molecules suspended in diesel, and is harder to remove than in traditional diesel fuel. This is why old technology, such as sedimenters work relatively well removing water in its' entirety, but struggle with emulsified water, the contaminant you can't see.
The high flow filter used in the kits reduce the amount of restriction added to the system. Increased system restriction can be as devastating as water ingress. System restriction can cause cavitation. The result of this is extremely aggressive wear on internal components which has the ability to destroy fuel injection systems very quickly.
The benefits:
Reduce wear and tear and avoid repair costs that can exceed $10,000
95% water separation and superior particle removal
Ability to separate emulsified water from ULSD
Clear water drainage bowl to easily identify removed water
No filter bypass – contaminated fuel will not be sent to the fuel system even when the filter is blocked
Included in the kit:
Filter assembly (including water bowl)
Model specific laser cut stainless bracket
Spare filter element
All hoses required for the job
Nuts, bolts, washers & clamps
Installation instructions
LED water sensor (optional)
Hand primer (optional)
---
Oil & Fuel Filters
The key to the life of any diesel fuel system is filtration.
At Diesel Distributors, we have partnered with some of the worlds most advanced filtration manufacturers to offer a selection of OEM replacement and retro fit fuel systems to the New Zealand Market.
Diesel engines are highly susceptible to damage from debris, water and other contaminants. Impurities in the fuel line can obstruct critical parts of the engine, such as the injectors and the fuel pump. Particularly in modern systems such as common rail and pump injection, impurities in the fuel may also cause serious damage, lead to considerable increase in fuel consumption and impaired engine performance. Poor or substandard fuel filtration can lead to expensive fuel system repair or even a full engine overhaul.
In the same way that air filtration is crucial to the life of one half of the engine, the fuel filtration MUST be able to handle our harsh environment. Our environment throws all kinds of challenges at diesel fuel injection systems. From heat and cold extremes causing expansion and contraction in the fuel tank which leads to water vapour ingress, to dust and dirt from our roads and beyond, it is obvious that 'adequate' fuel filtration just doesn't cut it.
Diesel Distributors has established itself by supplying fuel filters, and filter components of exceptional quality. You can rest-assured that your engine is well protected against premature wear, and that your investment is protected for years to come.
Delphi Filtration
Protection and peace of mind are worthy investments with today's high pressure, fine tolerance Diesel Fuel Injection Systems.
Who better to rely on for this protection and peace of mind, than the company that created these systems in the first place?
Delphi has developed a range of filtration products and OEM replacements which meet or exceed OEM specifications. The same specifications that Delphi recommend to the OEM market in the first place.
Delphi's most recognisable filter is the 5836B100. This system has been fitted to diesel engines for many years. As the exclusive national distributor for these products, you can be assured that replacement filters and parts are always on the shelf at Diesel Distributors.